Calendar/Schedule
This is subject to change. Generally, notice of changes will be given a week or more in advance.

SCHEDULE or Fall, 2014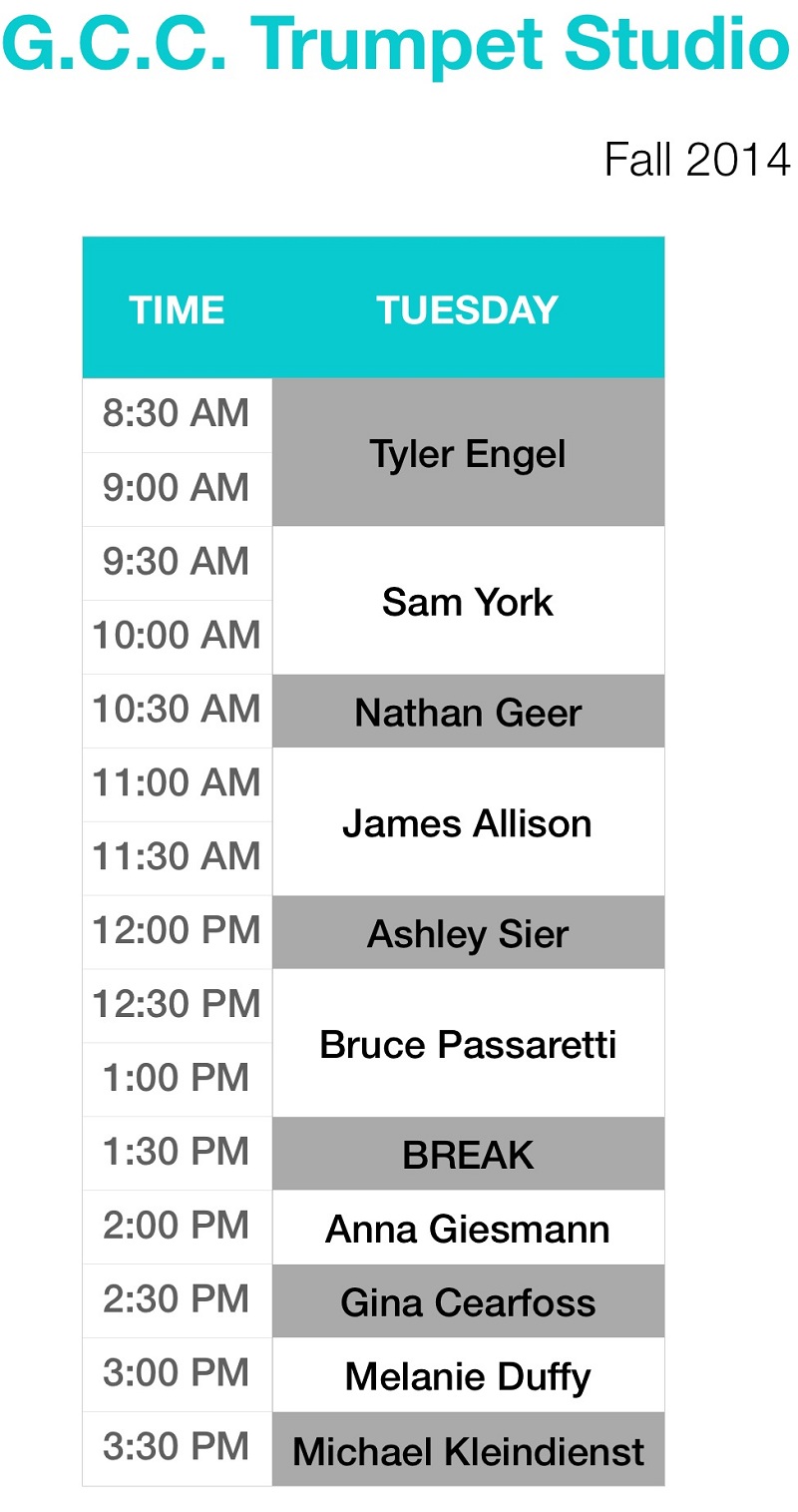 TBA

CALENDAR (by month)

September 2, 9, 16, 23, 30
October 7, 14, 21, 28
November 4, 11, 18
December 2, 9


---
Syllabus
This outlines and defines the Applied Trumpet Course Policies and Requirements.
Appendices to Syllabus
Appendix A: Studies
Required and Recommended Studies for Applied Trumpet at Grove City College.
Appendix B: Solo Literature
Required and Recommended Solo Literature for Applied Trumpet at Grove City College.
Appendix C: Orchestral Literature
Orchestral repertoire most commonly required for auditions.
Trumpet Solo/Ensemble Music Library
Listing of solo and ensemble repertoire available to be checked out by GCC Applied Trumpet students. Additional music will be purchased as needed, and as budget allows.
Trumpet Recordings
Here are some recording recommendations for the recommended solo trumpet literature. Some recordings are a little obscure and may require a bit of searching. This listing is also available sorted by title and sorted by performer. If you would like to recommend a great recording, let me know.
Required Materials
Freshman/Sophomore Scale Requirement
Each music major in the Grove City College Trumpet Studio is required to play all the following scales by the end of their sophomore year: Major (semester #1), Natural Minor (semester #2), Melodic Minor (semester #3), Harmonic Minor (semester #4)
Other Stuff
View the Workshop page to get more in-depth information on many of the method and etude books utilized for instruction.
GCC Trumpet Studio Picture, December 12, 2007
Picture of the Grove City Trumpet Studio - taken following juries for the Fall, 2007 Semester (approximately 3 MB).
---
Copyright © 2003, 2004, 2005, 2006, 2007, 2008, 2009 Drew Fennell
International Copyright Secured All Rights Reserved